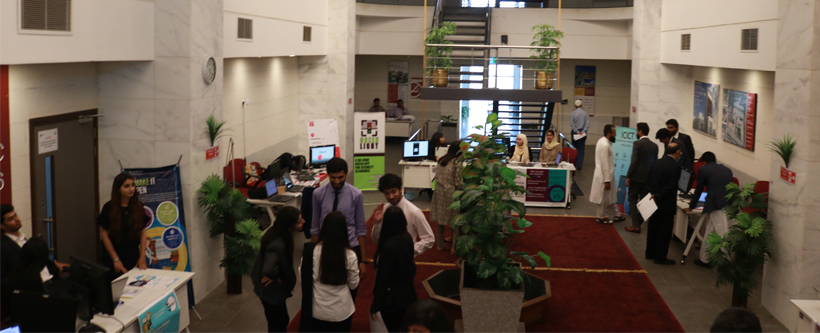 May 29, 2019: FYP Symposium Spring 2019 was held at Aman Tower City Campus to exhibit and evaluate final year projects. The event was organized by Mr. Waseem Arain, Projects Manager - FYP, of FCS IBA. For the first time projects are hosted at www.github.com/fcsiba publicly. Projects' and teams' profiles are available online at: www.kaydrive.com/fcsiba-spring19.
Some 32 projects, of 100+ students working in teams, were on display in FYP I and FYP II. A coterie of faculty and eminent guests from industry and academia was invited to evaluate the projects as esteemed judges.
Associate Dean, Dr. Sayeed Ghani, who remained present extensively, expressed satisfaction and confidence in continuing improvement in students' quality of work. Dr. Shakeel Khoja, Chairman CS, also took keen interest in students evaluations.
To visit the exhibition online click here (www.kaydrive.com/fcsiba-spring19). and to download project code click here (www.github.com/fcsiba).
For suggestions and comments please write to Projects Manager - FYP (warain@iba.edu.pk)